Why Should I Participate?
If you have knowledge of other languages and cultures, you can gain valuable experience that will help in the classroom, in the workplace, and in life.
Some of the benefits:
Improved communication skills
Opportunities for additional language practice
A new look at your own and another culture
Chances to meet and work with new people
An appreciative audience for your experiences
Respect for you and the language and culture you present
Stimulating dialogue with teachers, students, and other presenters
A better sense of the American educational system and American school students
Fun and rewarding experiences
A chance to learn more about yourself
Positive feedback
How Can I Participate?
Juniata students with international experience and/or advanced second language skills are eligible to participate. You can either take Language in Motion for credit or do it as a volunteer.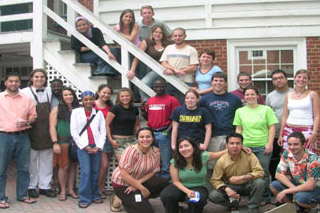 Credit students are required to attend all training workshops held late afternoons during the first four weeks of the semester and complete a minimum number of seven presentations (a full day in a school) during the semester. Register for the course as you would for any other Juniata course. The courses WL 201, WL 202, WL 203, and WL 204 are all one credit and are offered both Fall and Spring semesters. You may repeat the class by signing up for the next higher number during the same semester or in a later semester. You can earn Humanities (H) or International (I) credit from these classes. For further details, please see course syllabus.
Volunteers are invited and encouraged to attend all workshops and may decide how many presentations to do in a semester. As a volunteer, you may do only one or as many more as you want. Tailor the experience to your schedule. For further details, please see our volunteer info sheet.
Presenter FAQ
"I wish I would have known about this earlier."
Fernanda, Exchange student from Ecuador, 2001
Q: What age are the students attending the presentations?
A: The students vary from age 5 to 18, depending on the school. If you prefer to work with elementary students or high school students, please let us know.
Q: I've never taught. Will I get training to prepare me?
A: Yes. There are five workshops and two individual conferences on your presentation.
Q: How will I get to the school?
A: Language in Motion provides all transportation, and staff will get you to the school and back.
Q: Do I have to present by myself?
A: No. You may team up with another student. In addition, the director or a staff member may attend your presentation.
Q: I have class conflicts with school hours. Can I still participate?
A: Yes. We try to schedule presentations around your classes, but when that fails, we can give you a field trip excuse one time per Juniata course.
Q: What is required from me if I take the course for credit?
A: To pass the course, you must attend all workshops, give the required number of presentations, submit some presentation paperwork, and write a short reflective paper on your experiences.