"Not only are all of the professors incredibly helpful and knowledgeable, but they also really care about their students. They've helped me do internships and immerse myself in a real work environment."
—Noelle Bradley '18
MANAGEMENT WITH A SECONDARY EMPHASIS IN COMMUNICATION
Student and Alumni Success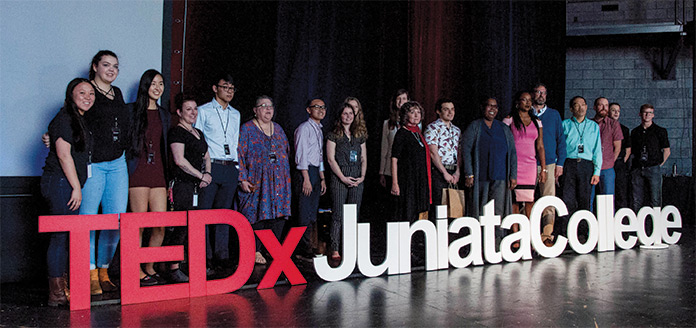 TEDx Juniata College 2019
May 5, 2019
Time and Location TBD
In the spirit of ideas worth spreading, TEDx is a program of local, self-organized events that bring people together to share a TED-like experience. At a TEDx event, TED Talks video and live speakers combine to spark deep discussion and connection. TEDx Juniata College is initiated and run by Juniata students.
Watch the TEDx Juniata College 2018 Talks Here
A Distinct Experience
Click on the banners below and learn more about what makes a communication experience unique at Juniata College.
Whether you choose a Program of Emphasis (POE) in communication or incorporate communication in another POE, the communication department at Juniata can equip you with the critical thinking skills, understanding of audience, and analytical ability to succeed in exciting careers, at prestigious graduate schools, or while becoming your own boss. We excel at helping you find your professional niche, since communication is essential in all fields.

Juniata's communication department is housed in Brumbaugh Academic Center's Dale Hall, in the same wing as the information technology and business departments, which helps you create interdisciplinary projects and customize your POE. Our newest POE, integrated media arts, is a blend of information technology, digital media, media writing, communication, and art. You can also learn to negotiate conflict by incorporating Juniata's peace and conflict courses with Juniata's communication and conflict resolution POE.

Communication students at Juniata usually experience two or three internships before graduation including study abroad opportunities. They also conduct research and present their findings at Juniata's Liberal Arts Symposium as well as state and national conferences. Through these and other hands-on experiences, our students learn not only a set of professional skills but gain an appreciation for lifelong learning.
Unique Areas of Study
The Communication Department offers five designated POEs. Juniata students also have the opportunity to design their own Individualized POE based on their academic interests, combining communication with other fields of study.
Common Individualized POEs
Business Communication
Communication & Wellness Studies
Multimedia Communication
Communication & Education Studies
Environmental Communication
Communication & Sports Administration
Below are two synopses of student presentations from Juniata's Liberal Arts Symposium, a day long on-campus conference held each spring where students and professors present research that they have worked on throughout the year.
No Experience Needed by Megan Myers '16
Outcomes
Morgan Horell '17
multimedia arts production with a secondary emphasis in marketing
is doing social media, photography, and video work for the Wolftrap Foundation.

Brittany Mlynek '17
multimedia technology strategies
is employed as a multimedia technology strategist for Operation Crusader.
Claudia Meyer '18
health communication and biology
has accepted a position with the National Cancer Institute at the NIH Campus.

Kien Le '18
media studies and photography
is pursuing a Ph.D at Ohio University in media communication.
Faculty
Juniata communication faculty are teachers, scholars, researchers, consultants, and practitioners of both human and mediated communication, especially in the classroom. They also present at conferences like the Council of Independent Colleges and College-wide Assessment. They each study the scholarship of teaching and learning. And, they conduct research on language and empowerment; communication and diversity; teaching and ethics; film; women, work and identity; transactional listening; and more. Together, they've won 10 teaching awards.
"There is a lot of involvement outside the classroom with lectures and assignments, and a lot of application in the classroom, which I think is important for fully grasping the concepts."
—Paul Alicea '20
Student Opportunities
Events: Be a part of one of Juniata's oldest traditions, the Bailey Oratorical Contest, a formal speaking competition. Whether in the humanities or the sciences, all students are encouraged to participate, and many do. The honor of being crowned winner by judges who are professors, doctors, and even state representatives—not to mention the prize money—is notably rewarding. Regale audiences with impromptu personal speeches, poems, stories, dance, and music at The Soapbox Speeches, an annual event at Juniata.
Clubs: Help spread the word about communication to campus through the Communication & Media Club, which holds several annual social events. Or, join Lambda Pi Eta, the national communication honor society.
Study Abroad: Take an active role in intercultural communication or digital video production while studying abroad. We have programs on every continent except Antarctica.
Undergraduate Research: Conduct research on a topic of your choosing with the guidance of a faculty member. Then, present at conferences—like Juniata's Liberal Arts Symposium, the National Conferences for Undergraduate Research, or conferences and conventions specific to communication. Faculty–student collaboration often results in honors theses. Recent examples: Matthew Gaynor '17, "Exploration of Narrative Through Cinematography - Short Film;" Morgan Horell '17, "Understanding Why: A Creative Analysis of Four Social Media Content Producers And How Company Values Distinguish Their Unique Video Style and Tone."