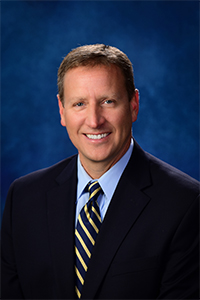 James A. Troha became Juniata's 12th president in 2013. Troha's major achievements have included the completion and implementation of the strategic plan "Courage to Act." Arranged around five key pillars, the plan sets ambitious goals to enhance the College's brand, increase enrollment, strengthen the curriculum, heighten community engagement with the College, raise the College's national reputation, and launch Juniata's next comprehensive fundraising campaign.
Troha has continued to improve the infrastructure of the campus, overseeing the fundraising and construction of the Winton Hill Athletic Complex, a $4 million soccer/lacrosse/tennis facility, and the construction of the $4.8 million Tom and Pat Kepple Integrated Media and Studio Arts Building. Troha also authorized a $15 million multiyear improvement project focused on renovating and improving classroom buildings, residence halls and other buildings, while also incorporating accessibility and inclusion more fully into the campus infrastructure. Some of the larger improvement projects include the building of a Global Commons area in the Tussey and Terrace residence halls, installation of new elevators, lobbies and façades for both Ellis and Good Halls, as well as many other smaller projects.
Under his leadership, the College has reorganized the student life division to focus more on the residential experience, student engagement, and diversity and inclusion. Complementary to this work, Troha approved additions of women's lacrosse, men's swimming, and men's and women's golf as NCAA Division III sports at Juniata College.
Troha is actively involved in the Huntingdon community, serving on the regional board of directors for Kish Bank. He also serves on the executive committee for the Huntingdon County Chamber of Commerce and, with his wife Jennifer Troha, served as a past campaign chair for the Huntingdon County United Way. Troha serves as the chair of the board of directors for the Campus Compact of New York and Pennsylvania, as well as the government liaison on the board of the Association of Independent Colleges and Universities of Pennsylvania. Additionally, Troha is the chair of the Landmark Conference, the intercollegiate athletic conference affiliated with NCAA's Division III. He was also recently appointed to the NCAA President's Advisory Council.
Previously, Troha served as vice president for institutional advancement and university relations at Heidelberg University. He began his administrative career at Heidelberg in 2002 as vice president for student affairs and dean of students, where he worked until he was named interim president in 2008. From 2003 to 2007, he also served as vice president for enrollment.
A native of Cleveland, Ohio, Troha earned a bachelor's degree in criminal justice in 1991 and went on to earn a master's degree in counseling in 1993, both from Edinboro University, in Edinboro, Pa. In 2005, he earned a doctorate in educational policy and leadership from the University of Kansas in Lawrence, Kan.