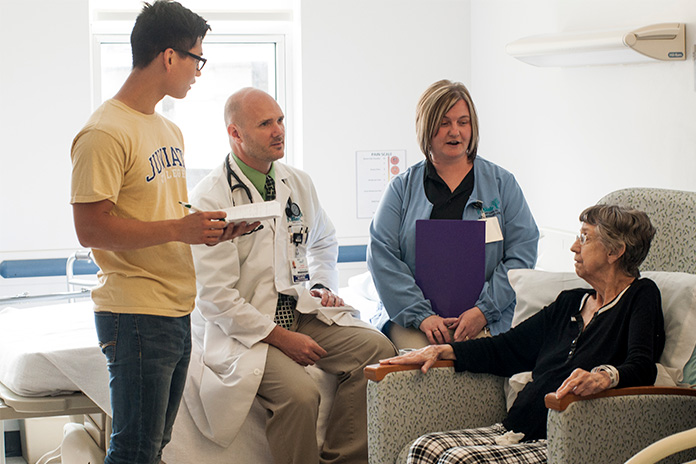 The Health Professions Institute provides opportunities for high school students to experience different areas of health care as a career discipline while participating in a high-quality, lab-based learning experience. Students will engage with the College's faculty and converse with health care professionals including physicians, nurses, health care administrators, and research scientists.
The Institute will focus on career exploration, college immersion, and a variety of learning activities. By conducting lab work, traveling to local health care facilities, and working in small groups, students will gain valuable learning and lab experience to help position them for success on their way to a career in the health sciences.
Health Professions Institute at Juniata College
When:
Sunday - Saturday
July 26 - August 1, 2020
Who Should Attend?
Rising high school sophomores, juniors, and seniors who want to explore healthcare-related careers through participation in a variety of dynamic learning experiences.
Any questions regarding the institute should be directed to Alisha Boerstler, Health Professions Institute Coordinator: 814-641-3434 or boersta@juniata.edu.
Health Professions Institute at Juniata College
July 26 - August 1, 2020
Register by March 1st to receive the discounted price of $1270 - includes all meals, housing, and transportation to off-campus sites
* Payment plans available. Please call 814-641-3606 for details.
Past courses included:
Gut Check: The Human Microbiome with Dr. Regina Lamendella
Course description: Imagine if there were an organ in your body that weighed as much as your brain and affected your health, your weight, and even your behavior. There is such an organ, a microbial cloud…that is, the collection of microbes in and on your body, which scientists define as the human microbiome. You will learn how the human microbiome affects health, employ hands-on molecular biology skills to profile microbial communities, and then research the role the microbiome plays in the progression of a specific disease. Dr. Lamendella received the 2016 Outstanding Mentor Award, from the National Council of Undergraduate Research, and owns / operates Wright Labs, out of Huntingdon PA.
Human Anatomy, Physiology & Movement with Dr. Randy Bennett
Course description: Movement is fundamental to human behavior and allows us to dance, play sports, hike the woods, and much more. In this course, we will gain a better understanding of how animals, including humans, move. First, you will examine the basis of movement by learning about the biology of neurons, muscles and bone. Then, you will record the activity of muscles and develop a project of your own using yourselves as subjects!
Supplemental Workshop Topics (all attendees):
Suturing Workshop
Becoming a Force for Health: Public Health & Preventive Medicine
Healthcare Professionals Panel
Getting Your Message Across: Health Communications
A Day at the Institute:
| | |
| --- | --- |
| Time | Activity |
| 8:00am | Breakfast |
| 9:00am | Lab Course |
| 12:00pm | Lunch |
| 1:00pm | Lab Course |
| 3:30pm | Break |
| 4:30pm | Healthcare Professionals Panel |
| 5:30pm | Dinner with Panelists |
| 6:30pm | Frisbee Golf/ Gym/ Pool Time |
| 7:30pm | Final Presentation work time with Juniata student mentors |
| 9:00pm | Back to dorm |
Why is Juniata the ideal choice for The Health Professions Institute?
Juniata College has specialized in preparing students for careers in the sciences for over 140 years. 90% of Juniata Health Professions graduates have been accepted into medical school over the past 40 years, including top-tier institutions such as Duke, Johns Hopkins, University of Pennsylvania, University of Washington, Harvard, and University of Pittsburgh. Alums include, James Madera '71, CEO - American Medical Association, Robert W. Neumar, '85 - Professor and Chair, Department of Emergency Medicine, University of Michigan Medical School and Gregory L. Stahl '84 - Retired Paul Allen Distinguished Professor of Anesthesia/Physiology, Harvard University Medical School.