Peer Tutoring Program
Juniata provides free peer tutoring services through QUEST. Tutoring is offered during Drop-In sessions and in small group and individual sessions. Tutors are selected for their subject area expertise, and are supported by faculty and receive tutor training.
Drop-In tutoring sessions are offered for Math, Statistics, Chemistry, Managerial Accounting, Computer Sciences, and Physics and are scheduled to begin early in the semester. Students in other courses can schedule tutoring sessions as needed.
Tutors are one component of academic success. Students are encouraged to speak with their professor about challenges they are experiencing in the course and discuss available study resources. Students should take advantage of group tutor sessions, group study sessions, professor's office hours, and all other course-related resources available through the academic department.
Tutoring is designed to support class preparation, class attendance and office-hours assistance from faculty; it is not intended to replace any of these critical academic responsibilities. Students who are motivated to get the most out of tutoring find that the program is very successful for them.
Drop-In Schedule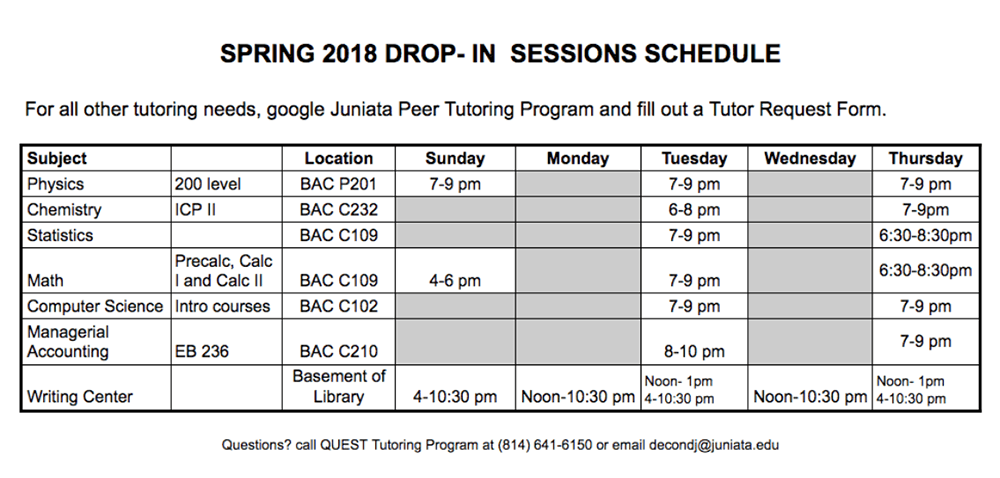 Requesting a Peer Tutor
Individual or group tutoring is available for those courses that do not offer Drop-In tutoring, or where more intensive assistance is needed.
Tutee Responsibility: Students requesting an individual/group tutor must complete the Tutor Request Form. After you complete the tutor request form, a list of tutors to choose from will be provided. It is your responsibility to contact the tutor with the email address provided. You can schedule up to three hours of tutoring per week for each course. Due to a limited number of tutors, individual tutoring is not always available. If a tutor in your subject area is not available, please contact Jennifer DeConde at 814.641.3491 or email decondj@juniata.edu.
Tutor Responsibility: It is the tutor's responsibility to keep a close eye on their Juniata emails. Tutors must respond to tutee requests within 24 hours. If responses are over 24 hours, your privileges will be under review. Once a tutor agrees to take on a tutee, it is the tutor's responsibility to fill out a Peer tutor/tutee contract form upon agreement. Within 12 hours of each tutoring session, the tutor must to fill out a follow up report which will be sent to the professor for further review and to the tutoring program coordinator.
Becoming a Peer Tutor
Students interested in becoming a peer tutor must be recommended by a professor of the course that they would like to tutor in. Please contact your professor to send in a recommendation on your behalf through the Juniata Peer Tutoring Program website. Once you have the recommendation, fill out the Tutor Application Form.
Tutoring Forms for Professors:
Tutor Recommendation Form
Additional Information:
Tutor Checklist
Responsibilities of Those Who Use Tutoring Services
Responsibilities of Tutors and Tutees:
Tutors and tutees are expected to arrive at pre-arranged meetings appropriately prepared and on time.
Tutors and tutees are expected to maintain good communication and be responsive to one another.
Tutors and tutees are expected to give advance notice when a tutoring session must be cancelled.
Tutees who fail to show up to their tutoring sessions two or more times will be contacted and may have their tutoring privileges revoked.
Tutors and tutees are expected to work together in partnership to help cultivate knowledge necessary to be successful in courses.
Tutors and tutees are expected to maintain academic integrity standards during their tutoring sessions.
Tutors and tutees are expected to fill out evaluations at the end of each semester.
Responsibilities Unique to Tutors:
A tutoring Follow-Up Report is required after each session with each student. Follow-up reports can be submitted electronically at the link below.
Follow-up reports must be received within 12 hours of a tutoring session. It is recommended to file them immediately after a tutoring session.
Tutors have the responsibility to report any issues or difficulties with their tutees to QUEST Tutoring Program Coordinator
All tutors are expected to attend at least one tutor training session.