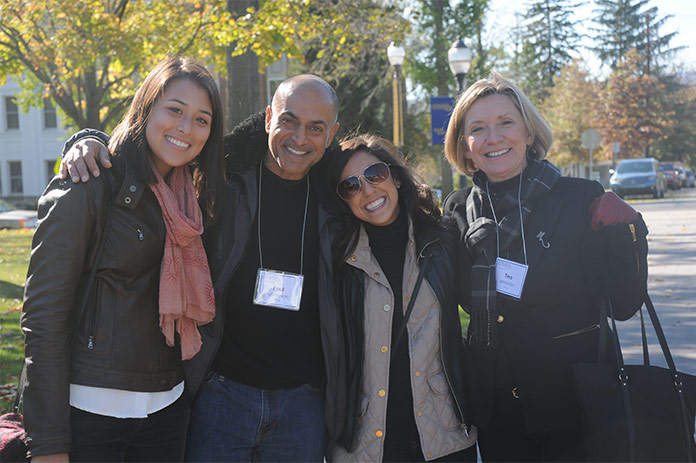 Homecoming & Family Weekend is a wonderful time to experience Juniata with the ones you love. Learn more about your student's field of study at a career panel or open house, bring the whole family to the magic show or Juniata Presents performances, and definitely check out the Carnival on the Quad and Marketplace on Saturday. Between athletics competitions, special events, and family-friendly activities, there's so much happening, you may not be able to decide what to do! See the full Schedule of Events for info on all events.
Frequently-Asked Questions:
What time should I plan to arrive on campus? Events begin in the mid-afternoon on Friday. However, if your schedule does not permit you to arrive until Saturday, that's perfectly fine. Registration is open Friday from noon-8 p.m. and Saturday from 7:30 a.m.-7 p.m., so you can check in whenever you get to campus.
Which events are open to parents and other family members? Other than the class reunion events, parents and family members are welcome to enjoy all the fun-filled activities of the weekend.
Should I register my Juniata student? Yes, we recommend that you include your entire family, including your Juniata student, when completing your online registration. There will be some events for which JC students will not require tickets, which will be noted on the registration form.
If we aren't attending the events that require advance registration, do we still need to register? Yes, we encourage you to register so that your info packet and nametags will be ready for you when you arrive on campus for the weekend. It will save you time checking in at the Homecoming & Family Weekend registration desk.

Where can we grab a bite to eat? Check out the Additional Information page for more info on dining options, pricing, and hours. For meals in Baker Refectory (dining hall), tickets are not required. You can pay at the door with cash, check, credit/debit cards, or student meal swipes or DCB funds. Note: You may pre-purchase tickets for Saturday dinner in Baker on your registration form, but we recommend that you talk with your Juniata student first. Often they are hoping that you might take them out to dinner at one of their favorite restaurants in town!
Do I need to buy a ticket to Saturday's Picnic on the Quad for my Juniata student? If a student is on a meal plan, you do not need to purchase a ticket. The student should present their Juniata ID card at the picnic check-in table.
Are the performances appropriate for all ages? Yes, Friday's show by Magician Hayden "Haydini" Childress sponsored by Juniata Activities Board and Saturday's Juniata Presents: Bindlestiff Family Cirkus performance are both appropriate for all ages, including children.
Can my children attend the Beer Garden or Wine & Cheese Reception? Yes, your son or daughter may join you at these events and enjoy an alcoholic beverage if they are at least 21 years of age and have photo ID proof of age. Children age 12 or younger may enter when accompanied by a parent/guardian, but will not be permitted to have alcoholic beverages. Anyone between age 13 and 20 may not enter, even with an adult.
Where is the bookstore? Headwaters at Juniata College, the newly-renovated College store, is under new management but in the same location on the ground floor of Ellis Hall. Pick up some new Juniata gear for yourself or your family. Browse their line of Vera Bradley bags and accessories, including exclusive Juniata College bags, or the wide variety of specialty items, including several product lines developed by Juniata alumni. Store hours during Homecoming & Family Weekend are: Friday and Saturday from 9 a.m. - 6 p.m. and Sunday from 9 a.m. - 2 p.m.