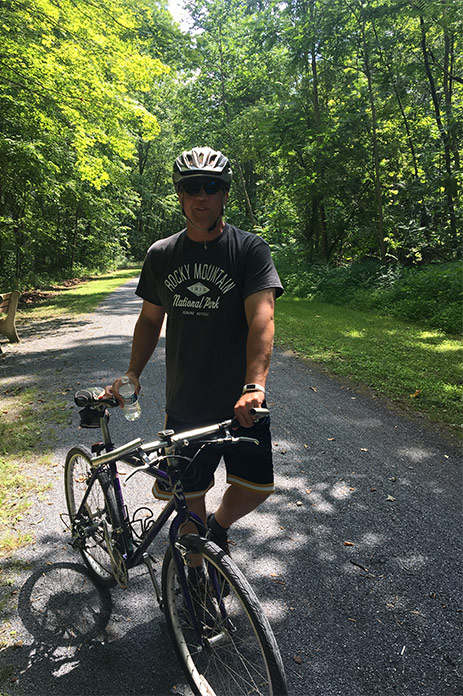 Juniata's quiet and powerful location is known for its breathtaking beauty and world-class outdoor recreational activities, which are enjoyed by more than one million visitors a year. We invite you to explore the place we are proud to call home. These mostly self-guided adventures include exploring the Peace Chapel, walking and biking on the Rails to Trails, hiking the Thousand Steps, and mountain biking on the Allegrippis Trails. All levels of fitness and experience can be accommodated through one of these activities, and no advance registration is required. The activities will take place rain or shine.
Everyone taking part in these activities does so at their own risk. See participation notice below.
Peace Chapel Walk
Enjoy a leisurely walk to Juniata's Elizabeth Evans Baker Peace Chapel designed by architect and sculptor Maya Lin, who also designed the Vietnam Veterans Memorial in Washington, D.C., and the Civil Rights Memorial in Montgomery, Alabama.
Begin your self-guided walk at the parking area on Peace Chapel Road. The half-mile walk to the Peace Chapel is uphill and can be completed in approximately 30 minutes. Once on the path, continue past the vehicle gate and up to the stone marker. Follow the path to the right through a grassy field and turn left when the path splits. Continue on the 24 granite stepping stones to the open-air chapel composed of 53 rough-cut, salt-and-pepper blocks of granite embedded in the ground in a 40-foot circle.
Once at the Chapel, relax, breathe in the fresh air, and enjoy the scenery. Bring a blanket and stay awhile reading, sketching, or daydreaming.
Return to the parking area at your own pace.
Directions/Parking:
Start your outdoor adventure at the Peace Chapel Parking lot located 1.5 miles from campus. If using Google Maps or another GPS, navigate to Peace Chapel, Peace Chapel Dr, Huntingdon. The parking lot is well marked and 600 feet up Peace Chapel Drive. Please consider car-pooling as parking is limited.
Rails to Trails Hike and Bike Ride
The Lower Trail (rhymes with "flower") is an ideal biking and hiking trail for all ages and abilities. It has a rolled crushed limestone surface, is extremely flat with only a slightly noticeable grade, and is quite shaded. In total, the trail runs for 17 miles one-way. Guests are invited to enjoy the trail for whatever distance they choose and at their own pace. This is a self-guided activity.
Bikes can be rented by contacting Rothrock Outfitters at 814-643-7226 or rroutfitters@gmail.com. Mention that you're with the Juniata College "Juniata Outdoors" group. You may pick up the bike on Friday or Saturday during normal business hours or have it delivered to and picked up from the trailhead on Sunday. Juniata will cover the Sunday delivery and pick-up fee. All other rental costs (i.e. bike, helmet, rack, etc.) are the responsibility of the individual.
Directions/Parking:
Start your outdoor adventure at the Alfarata Station trailhead located just west of Alexandria, Pa. This is approximately 10 miles and 20 minutes from campus. If using Google Maps or another GPS, navigate to Alfarata Outfitters, Alexandria PA, 16611, which is the closest landmark to the trailhead parking lot. (NOTE: There are several entrances along the trail. To make sure you're starting at the one closest to Huntingdon, do not navigate to Lower Trail in Alexandria or Williamsburg.) The trailhead parking lot is on the right-hand side of the road directly across from a street called Brick Yard Road BEFORE Alfarata Outfitters. If you arrive at Alfarata Outfitters, you've gone too far.
Thousand Steps Hike
Located in the Jacks Narrows near Mount Union, the Thousand Steps are a part of the Standing Stone Trail and were built in 1936 by quarry workers who cut away a large slice of Jacks Mountain to quarry the ganister stone used to make silica bricks. Meet George Conrad, vice president of the Standing Stone Trail Club and one of the caretakers of Thousand Steps, at the bottom of the trail near the kiosk (past the brown Thousand Steps sign) for a brief introduction to the trail before ascending the steps.
This is a moderately difficult hike as the first half mile is an 800-foot climb up more than one-thousand steps. Once at the top, the terrain is level and you can visit the railroad grades, the dinkey house, and take in several views. Guests may descend the steps and end their hike, or George will guide those wishing to hike further, just over two miles, to Mill Creek Quarry Vista which looks up the Juniata River Valley towards Huntingdon.
It is recommended that you wear sturdy shoes or boots, bring water and snacks, and some may prefer hiking poles.
Directions/Parking:
Start your outdoor adventure at the Thousand Steps trailhead located approximately 11 miles and 20 minutes from campus on Route 22 East toward Mount Union. If using Google Maps or another GPS, navigate to Thousand Steps, William Penn Hwy, Mapleton. After passing through the town of Mill Creek, continue into Jacks Narrows for one mile where you will see a very narrow pull-off on the left side of the road with a Heritage Route sign at the south end. This parking area is the only pull-off for the Steps. Please use caution when crossing traffic and exiting your vehicle as this is a major highway and vehicles travel very fast. To get to the trailhead, walk all the way to the south end of the lot (towards Mt. Union) and the trailhead is just past the guardrail next to the Heritage Route sign.
Allegrippis Trail Mountain Bike Ride
Join members of the Juniata College Cycling Association for a mountain biking adventure on the Allegrippis Trails at Raystown Lake, a premier single-track mountain biking trail system. The trail was designed by mountain bikers and built by the International Mountain Bicycling Association and opened in 2009. The 24 trails in the system are arranged as stacked loops and are rated "easiest", "moderate", and "most difficult" and can accommodate any age or ability.
Bikes can be rented by contacting Rothrock Outfitters at 814-643-7226 or rroutfitters@gmail.com. All rental costs (i.e. bike, helmet, rack, etc.) are the responsibility of the individual.
Directions/Parking:
Meet the cycling club members in front of Ellis Hall to caravan to the trailhead together. Please contact Alumni Relations at alumni@juniata.edu or 814-641-3443 for more information.
Participation Notice:
Everyone taking part in the Group activities does so at their own risk. Please use caution and good judgment and stay on marked paths. Proper footwear and equipment, layered clothing, sunscreen, and bottled water are recommended for all activities. We do not employ qualified guides, leaders, or first aiders at any of our activities. Juniata College and event hosts assume no responsibility for anyone attending any activity. The College, event organizers, and event hosts will not be held responsible for any accident, injury, or loss occurring as a result of any event or in connection with travel to such event, however caused.
When you join an activity, you indicate that you accept these conditions and accept that no legal liability is accepted by the College, event organizers, or event hosts in the event of accident or injury, however caused.
Participants are responsible for assessing their own risk, the safety of themselves and their guests, and the suitability of any equipment used.
Dogs are allowed at all events except the mountain biking. Dogs must be kept under close control at all times and on a leash where necessary. When noted, please follow the instructions at each location.