Associate Director of Alumni Relations
Joined Juniata Staff in 2008
814-641-3444
millerc@juniata.edu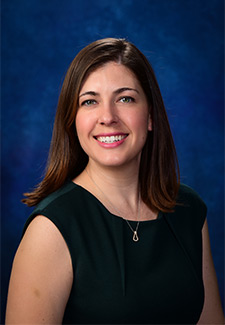 Christina is a member of the Class of 2001 and was honored to return to Juniata in 2008 to work in the College's Development Office. In September 2011, she was given the opportunity to join the Alumni Office. Christina's responsibilities include regional and affinity programs as well as managing the Alumni portion of the Juniata website and social media.
As an undergraduate, Christina studied history and English. She participated in "Unlock Your Voice", a coffeehouse event featuring dramatic readings from women's literature. Christina also participated in "A Celebration of Juniata Women" in 2001 by reading excerpts written by alumni. During her four years at Juniata, she served as student coordinator for the History Day district competition. After graduation, Christina was very thankful to be given the opportunity to study abroad for a month in France at the Catholic University of Lille.
Prior to returning to Juniata, Christina worked for six years at Heberling Associates, Inc., a cultural resource management firm in Alexandria, Pa.
Christina, a native of Williamsburg, Pa., now lives in Tyrone with her husband, Matt and their cocker spaniel, Bailey. She enjoys traveling, reading, exercising, and spending time with her family and friends.