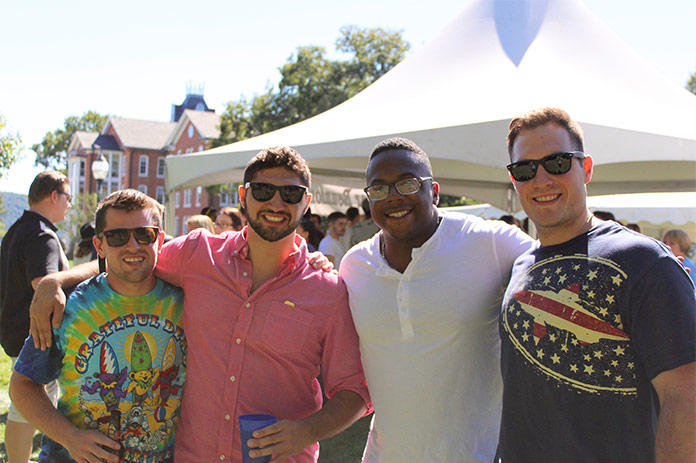 Now is the time to catch-up with your classmates and rediscover all you love about Juniata. The Classes of 1997, 2002, 2007, and 2012 will be celebrating reunions during this year's Homecoming & Family Weekend, with a special reunion dinner and social for each class on Saturday evening. We also welcome back our newest alumni from the Class of 2017, who will gather Saturday afternoon on the campus quad for their Zero Year Reunion.
See the Schedule of Events for more details on the reunion events for each class and a complete schedule for the weekend.
Class Reunion Contacts:
The following class members have volunteered to help plan your reunion and are available to answer any questions you may have. If you'd like to join the committee or contact any of the committee members, please email the staff liaison.
Class of 1997 -- 20-Year Reunion
Facebook Group: Juniata College Class of 1997
Reunion Committee: Julie Costa-Malcolm, Jennifer Lewis, Shelly (Brown) Rivello, Nina (Mathers) Van Mater, Steve Van Mater
Alumni Office Staff Liaison: Katie (Padamonsky) Dickey '97
Class of 2002 -- 15-Year Reunion
Facebook Group: Juniata College Class of 2002
Reunion Committee: Kate (Ceonzo) Ashcraft, Jacob Dickerson, Jim Krug, Jason Fournier, Loni (Plocinski) Fournier, Meredith (Boyle) Metzger, Matt Slagel, Sherry (Yoder) Strohecker, Mandi (Murphy) Valahovic
Alumni Office Staff Liaison: Katie (Padamonsky) Dickey '97
Class of 2007 -- 10-Year Reunion
Facebook Group: Juniata College Class of 2007
Reunion Committee: Ashley Appleman, Dana (Reist) Custer, Duane Ehredt, Laurel Gutenberg, Jennifer Jones, Kiel Knisely, Morgan (Riebel) Fleeger, Emilee Spokus
Alumni Office Staff Liaison: Dawn Scialabba
Class of 2012 -- 5-Year Reunion
Facebook Group: Juniata College Class of 2012
Reunion Committee: Elizabeth Bernardo, Gabe Castro, Wenli Chen, Valerie Deraville, David Grim, John Hill, Nicole Houck, Mary Howser, Skylar Kulbacki, Meg McGlone
Alumni Office Staff Liaison: Christina (Garman) Miller '01