Springfest Reactions: Food, Ferris Wheels
(Posted April 19, 2017)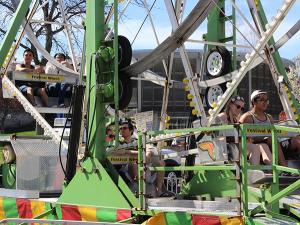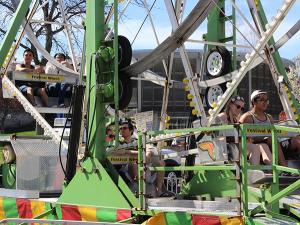 Last weekend, JAB hosted the first Spring Festival. Students were able to gather on the quad to enjoy the beautiful spring weather. JAB provided food trucks, music and a Ferris wheel. Students share their opinions the event below:
"I liked all the music groups and the free food, but I didn't see much advertising for it beforehand."
 Bethany Slaughter '17 Mt. Airy, Md. 
"I liked the different food options. They had funnel cake, cotton candy and snow cones. It was nice to have two food trucks and to get lunch from both instead of having just one. Also, I enjoyed having the Standing Stone company. Students could get a variety of beverages. I enjoyed listening to the performances. I wish there were tables set up on the quad instead of just chairs so students could sit down at a table to eat."
Bethany Steele '17 Frewsburg, N.Y. 
"It was nice to have my Geckos out on the Quad on such a nice day. Spring Fest was really busy and the lines were long, but it was such a nice day."
Macy Crouse '17 Needmore, Pa. 
"They had funnel cake and drinks, but the lines were really long and my wait time was like an hour to get a drink made. But I liked the event."
Cynthia Boo '17 Rego Park, N.Y. 
I liked the Ferris wheel and the live music. I don't think there was much else to do. I would've liked more activities. I did get a smoothie and it was really good. They ran out of food though.
Kara Shepard '17 Hermitage, Pa.
Marlene Matula, Juniata Online Journalist
Contact Gabe Welsch at welschg@juniata.edu or (814) 641-3131 for more information.