Poverty Activist Speaks at Juniata College
(Posted March 20, 2017)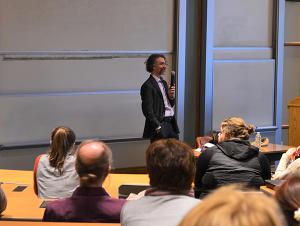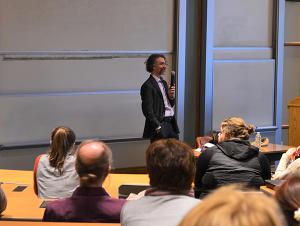 Members of the Juniata community gathered in Neff Lecture Hall on Thursday for a lecture by Sasha Abramsky, of the University of California, Davis.
Although the lecture was titled "Genocide Awareness and Action," Abramsky spoke mostly on poverty as it exists in the United States. Abramsky is the author of the 2013 book "The American Way of Poverty," in which, like in the lecture, he details the causes and effects of poverty.
Abramsky was inspired to speak about poverty once again by the current political climate. "All of the measures of poverty were so prevalent that it was easy for me to connect," said Abramsky.
In addition to poverty, Abramsky discussed politics and the psychology behind campaigning and a 2016 vote for the Republican candidate.
Attendees were welcomed to discuss with or debate against Abramsky.
Contact Gabe Welsch at welschg@juniata.edu or (814) 641-3131 for more information.